Geoff McCoy - Byron Bay
"Inventor of the Nugget and other innovative designs.
A peice of Australian surfing history."

The Beginnings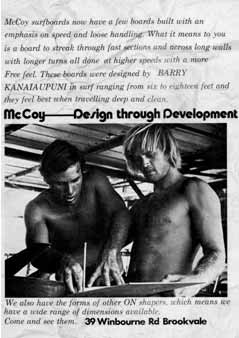 With a background in pattern making Geoff moved on to surfboard shaping in the 60's.
In 1970 Geoff opened his own factory on Winbourne Rd, Brookvale, a Northern Beaches suburb of Sydney.
Geoff's energy was totally dedicated to his design concepts and his ability to turn out great surfers. All of the young hot surfers of the day came to Geoff asking him to make their boards. Such as Bruce Raymond, Larry Blair, Cheyne Horan, Tod Ingham, Nicky Wood, Damien Hardman, as well as many others.
The Nugget concept crystallised and in 1992 and are now being incorporated by many other shapers.
This consummate and innovative professional designer now manufactures his surfboards out of P.S.M in Byron Bay when they are not surfing at Watego's, The Pass or Broken Head.
Geoff has years of design experience and an incredible understanding of water and energy flow.
To order McCoy surfboards ph 02 66853227

View McCoy Surfboards »